It's the start of a brand new day. You wake up, grab a cup of coffee, get dressed (on a good day), and sit down at your computer for another draining day of scouring the Internet for a job. Just before you hit the 'submit' button for the hundredth time, you think to yourself…..wasn't 2015 supposed to be different? The New Year was supposed to be a fresh start, a rejuvenation of your job search that would land you in the perfect position. But blasting your resume out to a million different employers in the hopes that a handful might respond is really not an effective job search technique (shocker, I know). When it comes to accelerating your journey back into the workforce, change it up and be sure to include these four proven strategies to revive your career search in 2015:
1. Get Out There!
Most jobs today are filled through referral networks and not online job portals. Employers are far more interested in meeting with a candidate that someone has recommended versus a blind submission from the web. I know it sounds overused, but networking truly is one of the most effective job search strategies you can employ. Engage your network in your search, let them know you're looking for a new opportunity and you'd be surprised how many people will come to your aid. If you feel your network has gone cold, don't despair! Volunteering for a company or non-profit in your area can spark new relationships and lead to fresh networking connections you didn't have before. It's also a great way to keep your professional skills updated and gain new recommendations.
2. Get Social!
Have you been avoiding social media as part of your job search strategy? (tisk, tisk) A 2014 study conducted by Jobvite shows that organizations are increasingly turning to social networking sites for recruiting purposes. Of the almost three- quarters (73%) of organizations that reported using social sites to recruit potential candidates, the majority of them use LinkedIn as their main sourcing platform. Check out what else they're up to on social media:
Related: How to Use Social Media to Get a Job [INFOGRAPHIC]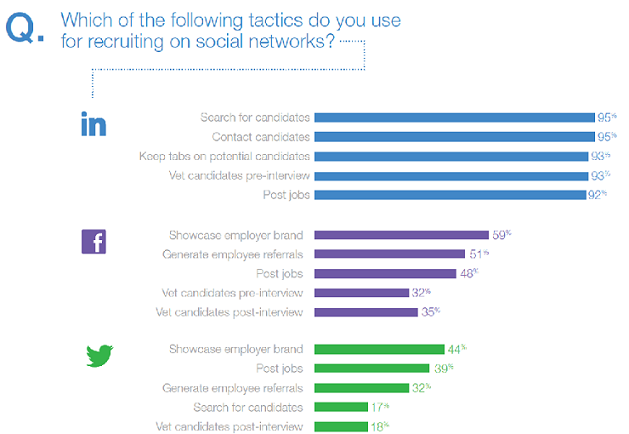 So if you have been neglecting your profiles, get back out there and refresh your social branding efforts! Here are some quick tips to get started:
LinkedIn – Make sure your public profile clearly identifies you as an industry expert. Seek out new connections and ask to be connected to others through your current connections. Use LinkedIn's analytics to your advantage and regularly check the listings of jobs you might be interested in, or even better, check the page that shows jobs at companies in your network (then you have an inside connection to help you navigate the application process). Hands down, LinkedIn is going to give you the best ROI.
Facebook – Create a professional page where you can post relevant industry news, trends, and articles. Like and follow companies in your area that you'd like to work for to keep an eye on what they are posting about. Comment on posts, share their content on your professional page, and do your best to engage with them regularly. There's an administrator on the backend of every social page, so the more engaged you appear, the more likely they are to take notice and check you out!
Twitter – Follow companies (and the people that work there) to watch for job postings. Look up hashtags that HR reps and recruiters use frequently (#jobs, #hiring, #recruiting, #opportunity, #nowhiring, #careers) – then do an advanced search to narrow down the results. Aim to post 2-3 relevant articles a day to populate your timeline with great resources and information, which will help strengthen your persona as an expert in your field.
3. Get Organized!
You should have a lot of open conversations going on with people in your network at this point, and it can be hard to keep them all straight! Don't assume you'll remember to call Bill next week, get organized and make sure you don't let anything slip through the cracks. Give JibberJobber a try, a website that can help manage and organize your job search. From setting follow-up reminders with people in your network to maintaining a rolodex of connections and companies, the system is really quite helpful. Implementing a solid organizational plan for your job search and follow-up efforts will help you feel more in control of the entire job search process.
Related: A Successful Job Search Needs a Curious Mind
4. Get Away From It!
Looking for a full-time job is ITSELF a full-time job! It can be mentally and physically exhausting, so make sure to take a break every once in a while to refocus. Take a walk to clear your head, pick up a forgotten hobby that you love, start a project around the house…..anything you can do to divert your attention for a few hours a week. And continue to remind yourself of all the positives in moving forward. Think about the possibilities that lie ahead and see the unknown as an optimistic challenge!
At the end of the day, as businesses continue to grow and talent pools tighten, we're starting to see a shift in power. It's a job seeker's market these days if you play your cards right. So follow these simple career revival steps and get ready to reap the benefits of your efforts!