If you have a background in sales assistant or retail work and you are looking to write your personal profile then you need to focus on what experiences you have. Why do you think you are good at being a sales assistant, what made you go into this area, what do you hope to achieve in 5 years etc. All the things that will be important to an employer to know if you are the person that they are looking for.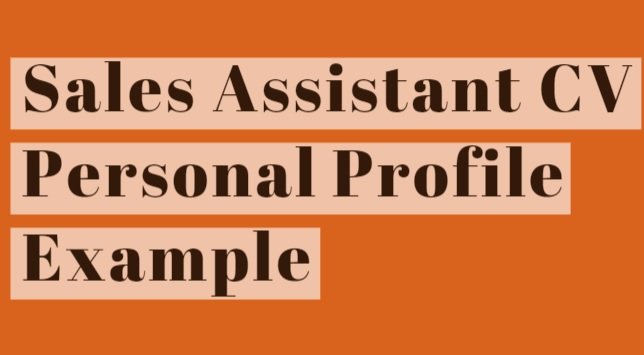 Related: Customer Service CV Personal Statement Examples
If you are seeking an example personal profile, please see below for one that you can use and adapt as a guide:
Sales Assistant CV Personal Profile
I have had X years experience as a Sales Assistant  working in a fashion footwear background (or whatever background you come from) and I feel that over the years I am continually learning new things from starting with relatively no experience to now assisting my Manager in merchandising the store and ordering new stock from Head Office.
I feel that I am very competent in my work. I like to be competitive in selling and like to do well in promotions and offers in the store, who can sell the most pairs of shoes over a period of time or the most of one style etc, I take this as a real challenge and run with it.
I want to continue my career in Retail Sales and would like to take on more responsibility and experience different stores in terms of size and location for variety. I love working in a fashion company and feel very excited to see the different seasons, the new products and enjoy getting involved in this detail from what sells in the store. I am passionate about fashion and retail and am eager to learn anything I can do and have recently spent some time working alongside the head office teams understanding the buying and merchandising process further which I thoroughly enjoyed.