If you are going to apply for a Sales Assistant position then you will need to write a good covering letter for your job application.

Following Sales Assistant job application and covering letter example can be used for all reatil jobs for any company or supermarket.
Here is the example letter:
Dear [Insert Name]
Sales Assistant at Bristol Store
I write in application to your recent advert for a Sales Assistant listed on Learnist.org.
I have had the opportunity to work in a seasonal retail role during their busiest and most demanding period when I was expected to deliver excellent customer service, assist customers to locate products, deal with customer queries and up-sell various items. This proved very challenging and highly rewarding and I would be delighted to be given the opportunity to work within a similar role in the future.
I have recently finished my education and am preparing for the world of work, although I note that your company really rewards employees by offering development opportunities which I would be keen to understand more about.
I trust that having considered by enclosed CV you will be persuaded of my potential to perform well and to really contribute to the success of your business. I would be available for an interview at any time and very much look forward to hearing from you.
Yours sincerely,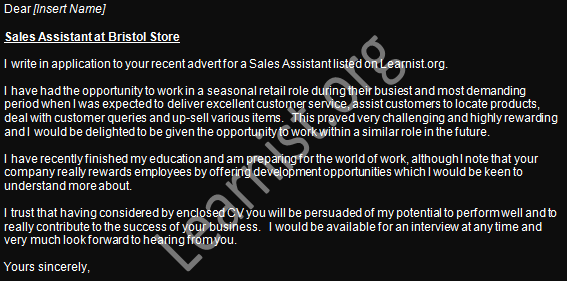 You can view more cover letter examples on our job forum.
VIEW MORE COVERING LETTER SAMPLES?