Use this letter example if you are going to quit your job.
Leaving your job on good terms is important for your future career development and who knows? you can always go back to the same company.
Amend this letter as suitable before sending it to your employer.
Simpe Resignation Letter Example with Regret
Your Name
Your Address
Post Code
Phone Number
Email
Date
Name
Title
Organisation
Address
Post Code
I regret to inform you that I am resigning from my job as a supervisor at [company name]. My last day at work will be 14th May 2020.
Thank you for the support and the opportunities that you have provided me during the last several years. I have enjoyed my tenure with the company.
If I can be of any assistance during this transition, please let me know. I would be glad to help however I can.
Your Sincerely.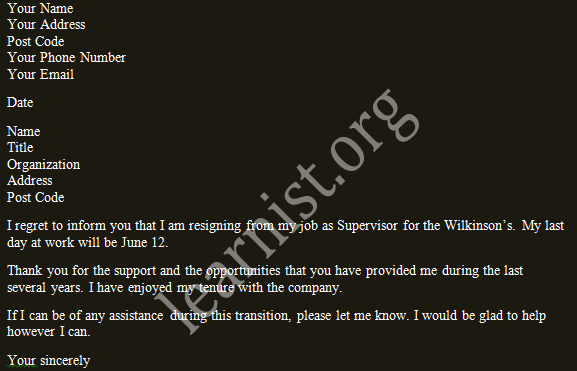 Make sure that you amend this letter with your own personal details and contact information.