Use this example cover letter if you are going to apply for a Software Engineer job in the UK. Don't forget to amend it as suitable before sending it to the employers.
Software Engineer Cover Letter Examples
Dear …
Software Engineer advertised on Learnist.org
I write enclosing my CV for consideration for the advertised Software Engineer vacancy.
I have been a self employed Software Engineer for the past 2 years but now seek an employed role so that I can focus on the design and maintenance of software – the most enjoyable aspect of the job – rather than the paperwork involved in being self-employed. During my career I have had the opportunity to work within close teams and more recently independently, and have proved myself capable in both situations.
My skills also include persistence to get the project completed in a timely and efficient manner, and I have very high attention to detail.
I am available for a telephone discussion or interview at any time, although I will be away on holiday from 1st-10th November.
I look forward to hearing from you.
Yours sincerely,
Download Software Engineer Cover Letter Examples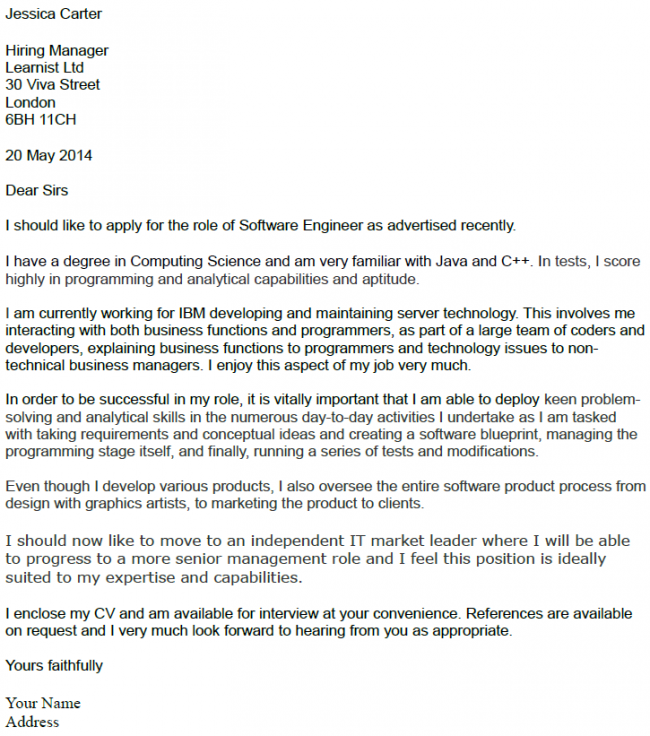 Software Engineer Cover Letter Example
Dear Mr Hall,
I am writing to apply for the position of Software Engineer as recently advertised on the WebTech website.
I am an experienced software engineer and I believe I would bring an extremely valuable skill set to this interesting new project. I am passionate about the progression of the software engineering industry and its focus on best practice.
In my current position I am responsible for a very intricate and large network of programs and systems, including their development and maintenance. In my daily work I make use of several different databases and portals and have a high degree of proficiency utilising these tools. For a detailed list, please refer to my CV.
One of my key skills is in the area of software design, which I see as a very attractive aspect of this advertised position. I certainly enjoy my current role but the challenge presented in designing a code generation project from the ground up is one that I would be keen to undertake.
I have excellent documentation, communication and interpersonal skills, with an ability to liaise effectively and professionally with individuals at all levels.
I look forward to being able to discuss the position with you further and await a reply at your earliest convenience.
Yours sincerely,