Supervisor CV example and template. Amend as suitable and start using it for your job applications. You can also create a CV in seconds from this example.

Supervisor vacancies can be found on the job sites online. Visit those job boards and start searching for current positions.
You can view our latest cover letter examples to write your own to use with this CV.
If you have any question about your CV then visit our job forum today.
Here is Supervisor CV template: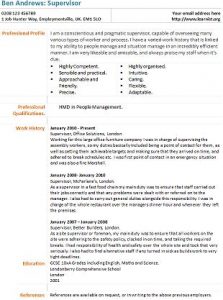 Ben Andrews: Supervisor

0208 123 456789

1 Job Hunter Way, Employmentville, UK. EM1 5LO

Your email address here

Professional Profile

I am a conscientious and pragmatic supervisor, capable of overseeing many various types of worker and process. I have a varied work history that is linked to my ability to people manage and situation manage in an incredibly efficient manner. I am very likeable and amicable, and always praise my staff when it's due.

Highly Competent.

Sensible and practical.

Approachable and Friendly.

Precise.

Highly organised.

Intuitive.

Caring.

Flexible.

Adaptable.

Professional Qualifications.

HMD in People Management.

Work History

January 2010 – Present

Supervisor, Office Solutions, London

Working for this large office furniture company I was in charge of supervising the assembly workers, so my duties basically included being a point of contact for them, as well as setting them achievable targets and making sure that they arrived on time, and adhered to break schedules etc. I was first point of contact in an emergency situation and was also a fire Marshall.

January 2008- January 2010

Supervisor, McFarlane's, London.

As a supervisor in a fast food chain my main duty was to ensure that staff carried out their jobs correctly and that any problems were dealt with or referred on to the manager. I also had to carry out general duties alongside this responsibility. I was in charge of the whole restaurant over the managers dinner hour and whenever they left the premises.

January 2007 – January 2008

Supervisor, Better Builders, London.

As a site supervisor or foreman, my main duty was to ensure that all workers on the site were adhering to the safety policy, clocked in on time, and taking the required breaks. I had responsibility of health and safety over the whole site and took that very seriously. I also had to find alternative staff if any turned in sick as builds work to very tight deadlines.

Education

GCSE 10xA Grades including English, Maths and Science.

Londonberry Comprehensive School

London

2001

References

References are available on request, or in writing to the above previous employers.
Copyright Notice:
This CV Example cannot be published on any other site without prior permission however you are more than welcome to link to this page.