Teacher: The teaching profession has a massive shortfall and vacancies for more than 32,000 new teachers every year in addition to an increasing number of teaching assistants. This lack of applicants for the vacancies makes teaching a stressful career.
Dear Headmaster,
Teacher at Forthwitham Primary School
I write to apply for the vacancy of Teacher at Forthwitham Primary School, and enclose my CV and recommendation letters for your consideration.
I have recently finished my teacher training course where my tutors indicated I was able to capture my students imagination and promote learning throughout the class. I am very much looking forward to taking up a role in a school which is truly at the heart of the community.
Yours truly,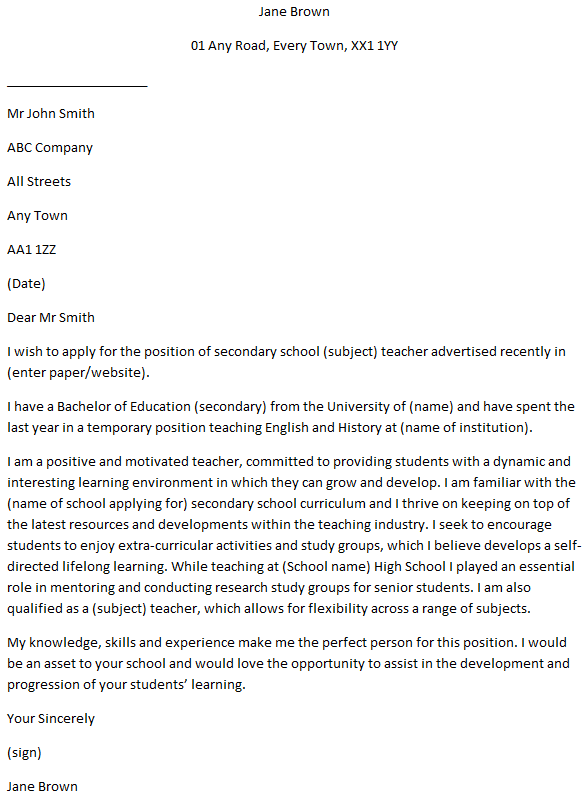 Teacher Cover Letter
Name
Address
Contact Details
DATE
Dear (INCLUDE ACTUAL NAME HERE IF YOU CAN),
I wish to apply for the position of secondary school (subject) teacher advertised recently in (enter paper/website).
I have a Bachelor of Education (secondary) from the University of (name) and have spent the last year in a temporary position teaching English and History at (name of institution).
I am a positive and motivated teacher, committed to providing students with a dynamic and interesting learning environment in which they can grow and develop. I am familiar with the (name of school applying for) secondary school curriculum and I thrive on keeping on top of the latest resources and developments within the teaching industry. I seek to encourage students to enjoy extra-curricular activities and study groups, which I believe develops a self-directed lifelong learning. While teaching at (School name) High School I played an essential role in mentoring and conducting research study groups for senior students. I am also qualified as a (subject) teacher, which allows for flexibility across a range of subjects.
My knowledge, skills and experience make me the perfect person for this position. I would be an asset to your school and would love the opportunity to assist in the development and progression of your students' learning.
Thank you for taking the time to consider my application.
I look forward to hearing from you and discussing my suitability for this role within your school.
Yours sincerely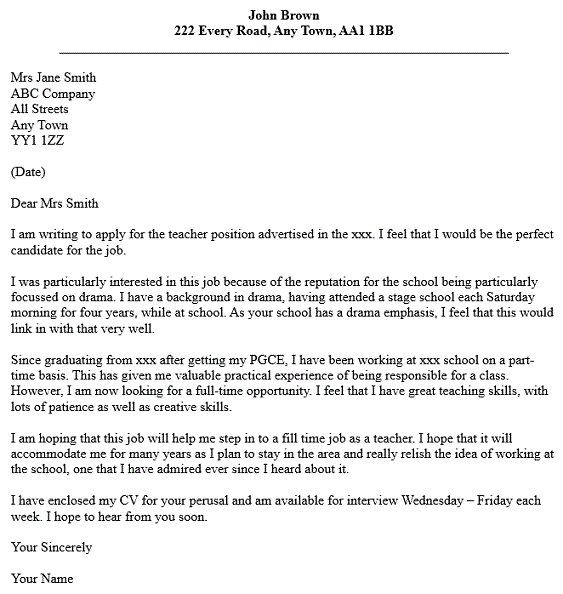 Science Teacher Cover Letter
Dear Megan Ashley,
Science Teacher (Physics)
I would be delighted to be considered for the advertised vacancy of Science Teacher. Your school has long been recognised as a leading institution as a National Teaching School and student achievements, and I am also aware that Saffron Walden County High is a lead school for the Institute of Physics. It would be an amazing opportunity to complete my NQT year in such an environment to see how sciences can be taught in an engaging and thought-provoking way.
During my placements at [enter school name], Harlow and Leventhorpe Academy, [enter town name], I have planned and delivered 60 minutes lessons at KS3 (years 7 and 8) and KS4 (years 9 and 10) across Biology, Chemistry and Physics subjects. I was also allocated to a form group and delivered Form Time activities as well as making contact with parents over the telephone and during Parents Evenings. I was involved in the KS3 science club during the first term.
Having completed my Bsc Natural Sciences (Honours) degree from the Open University in 2014 I am due to complete my PGCE and Initial Teacher Training course from Essex Teacher Training in June 2017 where I am on-track to be a Grade 1 teacher.
I am a firm believer that Educational Research is the key to improving the standards of teaching, and I strive to incorporate teaching strategies that are proven to raise the achievements of students from all backgrounds and abilities. I am highly numerate, organised and efficient, enthusiastic about getting things right and making a difference to the students. I am cooperative, highly driven and motivated, and throughout my career I have quickly been identified as a positive, reliable and hard-working team player and I would be delighted to be considered to join the Saffron Walden County High Science Faculty.
Yours sincerely,