A teacher will not be taken on unless they have a Post Graduate Certificate in Education, School Direct training, Teach First qualification BA/BSc with Qualified Teacher Status or a Bachelor of Education so these relevant qualifications need to be put in the cover letter. If you have work experience as a teacher and have completed other relevant courses, these may be worth a mention too. Any work experience, paid or unpaid that involves teaching should also be mentioned. This could include any training done as part of the teaching qualification gained.
There are a number of skills that a good teacher should have and it is good if you can show that you have these from the cover letter. These include communication, organisation, creative, imaginative, analytical, time management and interpersonal skills. Energy and enthusiasm is also necessary and a good sense of humour helps. It is possible that skills in IT, drama, sport, modern languages, community or art could be favourable and so these are worth a mention as well. Teaching has long hours and needs a lot of commitment, so if you have not worked as a teacher before, you will need to ensure it is clear that you are able to happily cope with this.
Teacher Cover Letter Example
Dear [Insert Name]
Vacancy for Teacher
Please accept this letter and my enclosed CV in application for the advertised vacancy of Teacher.
Having read through the job description I am confident that I have all the required skills and experience to successfully fill the role. Furthermore I am very familiar to the local area and have spent some time living within the community.
I believe that my greatest teaching strength is my ability to understand each students unique requirements and assisting them to achieve as much as they can. I also have experience in tutoring, arranging daily activities, keeping students organised and controlled and your school can benefit considerably from my knowledge.
I trust that you will positively consider my application and am available on the above number if you require any further information or to arrange an interview. Thank you for your time and consideration and I look forward to hearing from you.
Yours sincerely,
Your Name
Teacher Cover Letter
Jessica Green
222 Every Road, Any Town, AA1 1BB
__________________________________________________________________
Mrs Jane Smith
ABC Company
All Streets
Any Town
YY1 1ZZ
(Date)
Dear Mrs Smith
I am writing to apply for the teacher position advertised in the xxx. I feel that I would be the perfect candidate for the job.
I was particularly interested in this job because of the reputation for the school being particularly focussed on drama. I have a background in drama, having attended a stage school each Saturday morning for four years, while at school. As your school has a drama emphasis, I feel that this would link in with that very well.
Since graduating from xxx after getting my PGCE, I have been working at xxx school on a part-time basis. This has given me valuable practical experience of being responsible for a class. However, I am now looking for a full-time opportunity. I feel that I have great teaching skills, with lots of patience as well as creative skills.
I am hoping that this job will help me step in to a fill time job as a teacher. I hope that it will accommodate me for many years as I plan to stay in the area and really relish the idea of working at the school, one that I have admired ever since I heard about it.
I have enclosed my CV for your perusal and am available for interview Wednesday – Friday each week. I hope to hear from you soon.
Your Sincerely
Your Name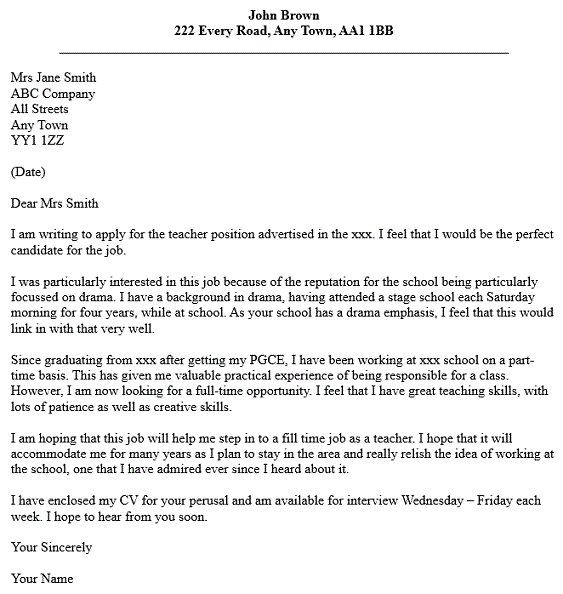 Teaching Job Application Letter
Dear Mrs Johnson,
I wish to apply for the Year 3 teaching position at your school as advertised in the Times Educational Supplement.
I have an Education degree (Primary) from Bath University and have been teaching for the past two years at St David's Primary School in Wells.
As a teacher, my main goal is to motivate students to do their best and expand their own personal limits. I devise programs, according to syllabus requirements, that develop previous knowledge and encourage students to explore new and interesting possibilities. I encourage students to construct their own learning in an environment that stimulates and helps students to realise their full potential. I have had some excellent results with students who have a history of poor performance. I strive to instil a love of learning and to make learning exciting and interesting.
I am confident that my experience and skills will be an asset to your students' learning and development and would love the opportunity to work at your school.
Thank you for taking the time to consider my application. I look forward to the opportunity of meeting with you and discussing how I can contribute to your school community and objectives.
Yours sincerely,