Use this CV example if you are going to apply for a Telemarketer job. Writing a CV for your job applications is an important job at the beginning of everything. Do not copy paste from this page but inspire or replace everything with your own information.
Telemarketer CV Example
[Type the date]
[Type your name]
[Type your phone number]
[Type your e-mail]
[Type your address]
[Type your website]
Personal Summary
Confident and efficient Telephone Marketer with extensive experience in a number of busy organisations. Highly motivated and continually striving for success both as part of a team and individually.
Passionate, confident and articulate professional with a track record of delivering excellence in customer service. Strong communicator with the ability to acquire product knowledge quickly. Highly motivated, offering excellent customer service and aims to exceed customer expectations at all times. Demonstrates great partnership working and collaboration with colleagues and other departments to provide a responsive and co-ordinated service to customers. Supportive and enthusiastic team player, regularly contributing ideas for service improvements.
Work Experience
Tele Marketer – Mar-08 – Present
Insurance | Newcastle
Making outbound calls to existing and prospective customers to introduce new products and services provided by the company.
Duties:
• Contact clients in a prompt, efficient and professional manner
• To identify and register potential claims
• To support other team members to complete their tasks when necessary
Key Skills
Strong and positive communicator with excellent interpersonal skills
Competent with Word, Excel and other computer software with accurate data entry
Highly ambitious and motivated
Excellent customer service, communication and interpersonal skills
Demonstrates strong team working skills, with the ability to work to tight timescales
Acts as a positive role model and ambassador, enhancing the company's reputation
Meets challenges with confidence, maintaining high professional standards
Strong organisational skills with a proactive flexible approach when managing change
Strong problem solver with the ability to multi task and make sound decisions in a fast moving environment
Display energy and vitality in meeting targets through strong personal drive and motivation
Flexible and supportive team player, capable of working under pressure
Demonstrates meticulous attention to detail, and high levels of concentration and focus
Education
High School
2003 – 2005| A-Levels:
Science (A) Geography (B) Art (C)
References
Available upon request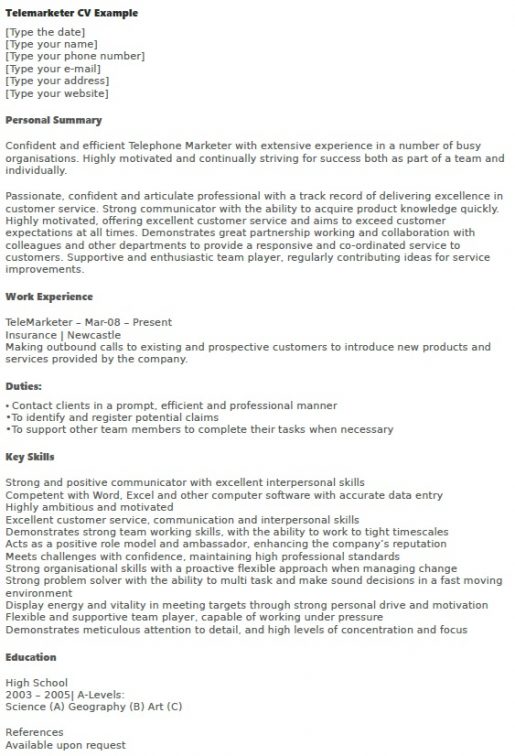 Don't forget to amend this CV as suitable before using it for your job applications.