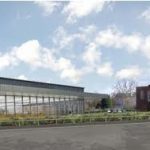 Retail giant Tesco has announced that at least 200 job vacancies to be created at the old Stonebridge Mills site in Farnley, Leeds. The company say that the jobs will directly go to local residents who have been out of work for at least 6 months.

Tesco have already submitted a planning application to Leeds City Council. Supermarket giant also promised to regenerate 200 years old mill complex by converting buildings into flats and apartments for affordable prices.
If approved, the project will create 400 jobs in total.
View more Tesco job news? or just visit our job seekers forums..