So, you have you applied for a job, and as part of their application process, you have asked to take an employment test….
This brief article will help you prepare for your test or tests.
Type of test?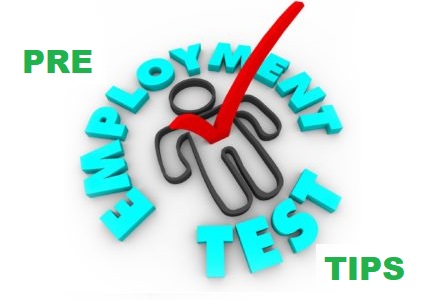 There are four main types of pre-employment tests – Aptitude Personality Specific Skills Job knowledge Aptitude Tests
Numerical, Verbal & Diagrammatic tests are types of aptitude tests used by recruiters and employers offering graduate & professional opportunities. Numerical tests require the candidates ability to deal with numbers quickly and accurately, and contain questions that assess knowledge of ratios, percentages, cost and sales analysis, rates, trends and currency conversions. Verbal tests require a short passages of writing to be read then asks questions assessing the comprehension of the text. Diagrammatic questions are designed to assess logical reasoning ability. The questions measure the ability to understand a set of rules from a flowchart or sequence of diagrams and then to apply those rules to new circumstances
Personality
A personality test will ask a set of questions to assess the way you think and how your personality is displayed in your employment choices. These are usually used in settings such as employment agencies and careers offices to assess which type of job to 8apply for.
Specific Skills and Job Knowledge
These will depend on the type of job being offered. This could be 'fix a part of a car for a mechanics job' or answering industry related scenario-type questions.
Relax
Tests are designed to help provide a fair method of comparing job applicants. So if you're asked to take an employment test, don't get angry. Even senior executives at the biggest companies in the world are often asked to take pre-employment tests.
If your prospective employer sees you are nervous or upset at being asked to take a test, they may be concerned about how you will handle the normal day-to-day job stress, so try to relax and you will actually test better.
Take your time
Pre-employment tests can be issued on site or web-based tests at home. Depending on the type of test or tests, you may need a few minutes or several hours. ..
Find out how much time you will need and make sure you take the test in a location that is free from distractions to ensure you can give it your full attention.
If you are taking a test from home, ensure that friends and family know not to come to visit, and that you turn your telephone off. It may also be a good idea – if possible – to complete the test when children are at school or with relatives.
Read the instructions – twice!
The most common mistake made when taking any type of test is rushing through the instructions. It is very important to read the instructions carefully and make sure you understand them. Sometimes instructions contain information about how the test is scored.
Example, on some aptitude tests you may be told that there is no penalty for incorrect answers. In this case, if you are running out of time you should start guessing.
Another common mistake is contained in multiple choice questions – for example, it may offer you the option to select three possible answers, but you only select one as the previous questions asked for one.
Do not be scared of failing
Pre-employment tests only form a small part of the application process, so being unsuccessful may not be solely responsible to the result of your test – there may have simply been a more experienced candidate.
Do not let it put you off of future tests!
All tests can be daunting – but remember that it will show off how suitable for the job you are! So relax, take your time and…..
Good Luck!