With more companies working flexibly and employing people from different locations, there is a greater possibility that your interview with a company could be done over Skype so it is important to be flexible yourself when it comes to interviews and how companies want to conduct them.
Just like preparing for a face to face interview, it is important to prepare carefully for a Skype interview and in some cases more important as the interviewer is only meeting you over a screen rather than in person.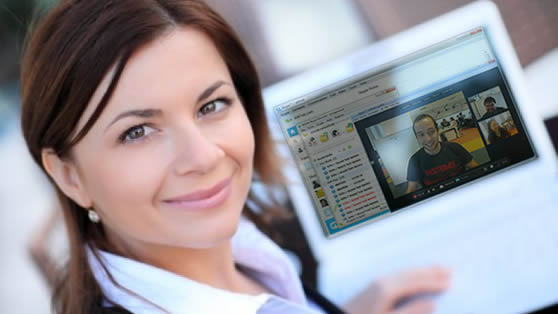 Some of the top tips to doing well in a Skype interview are listed below to help you prepare in advance.
#1 Dress the part
Make sure that even though you are not being seen in person that you dress appropriately for your interview. It may be tempting to wear your PJ's as the interviewer will only be able to see your top half but by dressing the part for that interview means that you will not only look the part but you will also feel the part and it will give off an air of professionalism.
#2 Surroundings
Plan your surroundings and look around you, what can be seen in the background during your interview? It would not look good to be surrounded by chaos or have the TV on even if it is on mute. Make sure that you are in a clear and tidy position which is quiet and free from interruptions. Act like it is a physical interview.
#3 Rehearse
Just like you would a normal interview in person, make sure you practice your interview in advance. Practice your answers in front of a mirror or a friend/family member and although you do not know what questions you are going to be asked, by reading the job description and doing your research you can plan what some questions could be and what your answers would be.
#4 Smile
Make sure you smile and look friendly throughout your interview. Remember that your interviewer can only see you on a screen so it important that you look like a person they can work with and that you are easy to get along with. Smiling shows that you are personable.
#5 Crib sheets
Take advantage of the fact that not everything can be seen and have your crib sheets with your research and preparation around you so that you do not need to forget anything and can refer to these throughout the interview.
#6 Make sure the interviewer knows you are listening
Because your interviewer cannot see you in the same way, make sure they know that you are listening and make sounds of agreement etc to show that you are listening and reacting to what they are asking of you. Try not to talk over your interviewer though to show you are still there as this is very rude.
#7 Don't ignore any technical issues you may have
If you have any problems with Skype, the connection or your computer throughout the interview, please acknowledge these and if necessary ask to make the call again and hopefully the connection will be better. If you pretend you have heard something and you haven't it will come back to bite you later.
#8 Stay calm and talk slowly
Remember to talk calmly and slowly. Do not rush your answers so that it sounds garbled as you will come across too nervous and not clear. It is even more important to be clear in a Skype interview as that is all an interviewer has to go on, they cannot really see how you look and feel in person through a computer screen.
#9 Make sure you can use Skype
Practice in advance that you can use Skype well and understand how it works so that is avoids any embarrassment during your interview. Make a couple of calls to friends and family to ensure that you know exactly what you are doing and also what to expect.
#10 Show your interviewer that you are interested in what they are saying
You can do this by maintaining eye contact, sitting up straight and looking professional, nodding and agreeing as they are speaking. You need to practice looking into the camera to ensure that the interviewer can see that you are giving them good eye contact and not just looking into space or round the room.