Job Fairs are a good way of meeting companies and getting your name and CV out there for potential roles. Some of the big companies take part in job fairs as a way of meeting and being able to talk to candidates prior to any interview situation and if you are looking to meet companies then it's important to choose which Job Fairs you should attend to suit your skill set.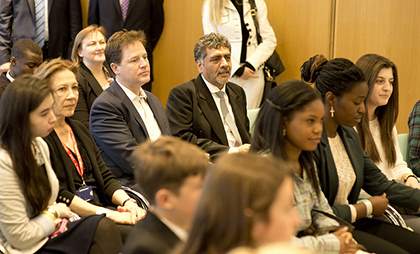 Please note that the most easily recognised names are located in Cities such as London, Manchester and Edinburgh.
#1 The Jobs Fair
The Jobs Fair tends to be the biggest Fair that holds events in most major towns and cities. They do not specifically target companies so it is a very general job fair where you will get the opportunity to meet all kinds of different employers from postal services to finance.
#2 Skills London
Skills London is known as the biggest event and in 2013 their event had over 180 recruiters ready to meet potential employees.  As well as employers being present at this event there are also training providers there to help get people into jobs by updating skills, learning and training etc.
#3 The BFRS Event – Armed Forces
The BFRS Event is an event which is aimed at people who have been in the Armed Forces, their families and communities in which they live. It specialises in trying to get the ex Armed Forces personnel into civilian roles, to enable them to look at training opportunities or how to work for themselves through self employment.
#4 RCN Bulletin Job Fair – Nursing
The RCN Bulletin Job Fair which operates in most major towns, dates can be found through their website. They target people in a Nursing environment looking for a new move, further training, a different aspect to a Nursing career etc.
#5 The Graduate Recruitment Fair
The Graduate Recruitment Fair as its name suggests specifically deals with Graduates and those soon to leave university. Employers at this Fair are looking for a long term plan with graduate training programmes of a mixture of industries.
#6 PwC Graduate Recruitment Fair
The PwC Recruitment Fairs are usually held in major Cities and Towns close to their working establishment. It allows you the opportunity to get an insight into the PwC Group of companies and to see what kind of career you can have with them, in what locations and what skills you require.
#7 City's Law Fair
The City's Law Fair specifically targets Law Graduates and Professionals looking for a Law career from a runner to a Barrister. Primarily they deal with London Vacancies but will also operate with other law firms across the country.
#8 Daily Echo Jobs Fair (Southampton)
The Daily Echo Jobs Fair is a huge job fair based in Southampton and sponsored by the Daily Echo Newspaper group. They have employers from across Southampton, Hampshire and surrounding areas and in most business areas depending on the vacancies that companies have to offer or the graduate programs they are looking to run for that period.
#9 National Graduate Recruitment
The National Graduate Recruitment Fair usually operates from the NEC in Birmingham and also from London targeting Graduates. They are the only Job Fair that refunds candidates expenses to get to the Fair such a travel expenses. They also provide advice on CV's applications and general skills needed for a particular career choice.
#10 The Careers Group (London University)
The Careers Group events is a mixture of Academic institutions as well as employers, training providers and other organisations that can provide help and advice as well as a potential job to people looking for a career choice.