In today's dynamic job market, characterized by intense competition and limited opportunities, the interview phase holds immense significance. It serves as a critical juncture that can either propel or hinder your career ambitions. It acts as the doorway through which you introduce yourself, your abilities, and your potential to employers.  Yet, interviews remain a nerve-wracking challenge for many job seekers, as a survey revealed that 93 percent of people feel anxiety related to their interviews.
Whether you're a fresh graduate entering the job market or an experienced professional seeking a career transition, the interview stands as a pivotal moment in securing your next venture. Identifying and rectifying the typical mistakes made by many candidates during interviews will empower you to navigate the complex world of job interviews with self-assurance, expertise, and the prospect of remarkable achievements.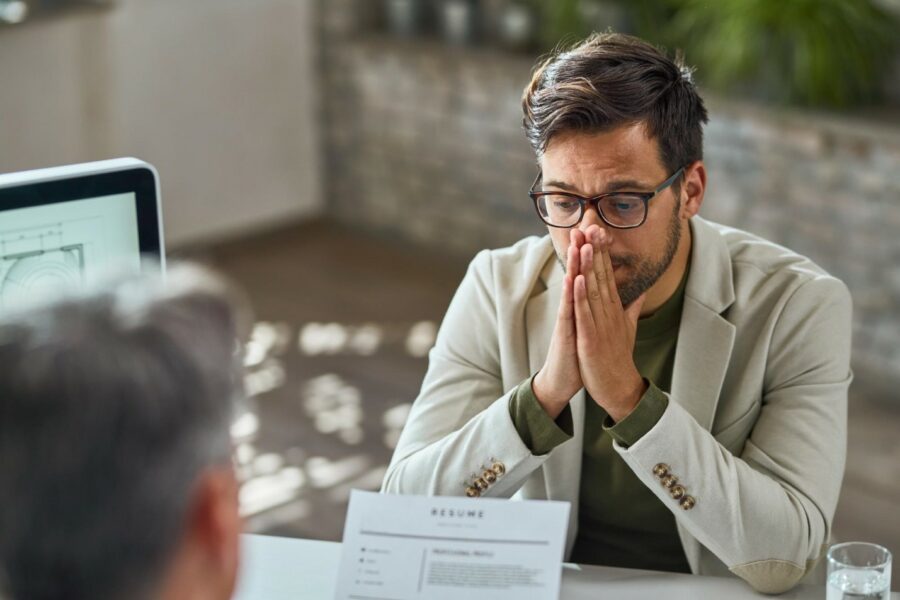 Lack of Preparation 
One of the most common interview mistakes is arriving unprepared. Failing to research the company, its culture, and the role you're applying for can leave a poor impression on the interviewer. To avoid this pitfall:
Do your homework: Research the company's history, mission, values, recent news, and the role's requirements. This knowledge will help you tailor your responses and show genuine interest in the company.
Practice your answers: Get familiar with the most common interview questions employers or recruiters may ask and rehearse your responses. Be ready to provide specific examples of your skills and experiences that align with the job.
Prepare thoughtful questions: Have a list of questions to ask the interviewer about the role, team dynamics, and the company's future plans. This demonstrates your enthusiasm and engagement.
Arriving Late or Disheveled 
Punctuality and appearance matter more than you might think in an interview setting. Being late or looking disheveled can signal a lack of professionalism and commitment. To avoid this mistake:
Plan your route: Calculate the travel time to the interview location, factoring in potential traffic or public transportation delays. Aim to arrive at least 15 minutes early.
Dress appropriately: Choose professional attire that aligns with the company's dress code. It's better to be slightly overdressed than underdressed.
Bring essential items: Prepare a folder with extra copies of your resume, a notepad, and a pen. This will show that you're organized and ready to engage in the interview.
Neglecting Non-Verbal Communication 
During interviews, non-verbal cues are just as important as what you say. Avoiding eye contact, fidgeting, or failing to maintain good posture can detract from your overall impression. To improve your non-verbal communication:
Practice body language: Maintain eye contact with the interviewer, offer a firm handshake, and sit straight to convey confidence and professionalism.
Control nervous habits: Be aware of any nervous ticks or habits you may have, such as tapping your foot or playing with your hair. Practice controlling these behaviors beforehand.
Listen actively: Pay close attention to the interviewer, nodding and responding appropriately to show that you're engaged and interested in the conversation.
Talking Too Much or Too Little 
Balancing your responses during an interview is crucial. Talking excessively can come across as self-centered, while giving minimal answers may suggest a lack of enthusiasm. To strike the right balance:
Stay concise: Provide clear, straightforward answers that directly address the question. Use the STAR method (Situation, Task, Action, Result) when discussing your accomplishments.
Ask for clarification: If you're unsure about a question, don't hesitate to ask the interviewer to clarify. It's better to seek clarification than to give an irrelevant answer.
Engage in a dialogue: An interview should feel like a conversation. Ask follow-up questions and express your interest in the role and the company.
Interviews can be intimidating, but avoiding these common mistakes can significantly improve your chances of success. Remember to prepare thoroughly, arrive on time and well-groomed, use effective non-verbal communication, balance your responses, and showcase your soft skills. With practice and the right approach, you'll be well on your way to acing your following job interview and securing the job of your dreams. Good luck!