Now that the hot months of this year are over, it's a great time to start thinking about any additions or renovations you want to make to your property that can be done over the generally quieter months of the year, construction-wise.
One of the jobs on your to-do list might be to install more ceiling fans in your home, so you don't have to rely so much on more costly HVAC systems when the weather heats up.
However, with so many fans to choose from these days, both online and in stores, it can be tricky to decide what to buy and find the right products to suit particular spaces. Follow a few steps to simplify the process and save yourself time, stress, and money, too.
Work Out Your Budget First
Start looking online at ceiling fans or checking out brick and mortar stores, and you'll soon be inundated with options. To narrow down your choices and ensure you don't get carried away and spend more than you should, work out a budget ASAP. When determining how much you can and want to spend, consider not just the purchase price of the unit itself, but the installation costs, plus any other potential fees, such as rubbish removal, shipping, or extended warranty.
Once you know how much you want to spend, save time by not analyzing too expensive fans. If shopping online, use search engine parameters to look at items up to your maximum budget. If shopping in stores, let the salesperson know your price parameters or see if the shop happens to be organized by prices in any way.
Measure the Area You Have to Work With
Before shopping for fan units, get clear on how much space you have to work with. Take comprehensive, accurate measurements and think about where on the ceiling you want to place a fan and, if it's a large area, if you want more than one fan for that zone.
Measurements are vital because if you buy a fan that doesn't suit the space well, you might find the air doesn't get moved around enough to make the unit worthwhile or that you feel like you're in the middle of a wind tunnel, with an overpowering fan for the room size.
You need to factor in ceiling height in each area you're buying a fan for, too. If the ceilings are particularly tall, you might need two fans to get the coolness you want. If, however, you have lower than usual ceilings, you may need to buy a specific flush mount ceiling fan with a low profile.
Determine Your Top Priorities
Next, do you know what you're looking for in ceiling fans for your property? What features do you require, and what style are you after? While ceiling fans were once relatively simple designs with limited color options and materials, things have changed. Today you'll find products with many handy functions and interesting design elements on offer.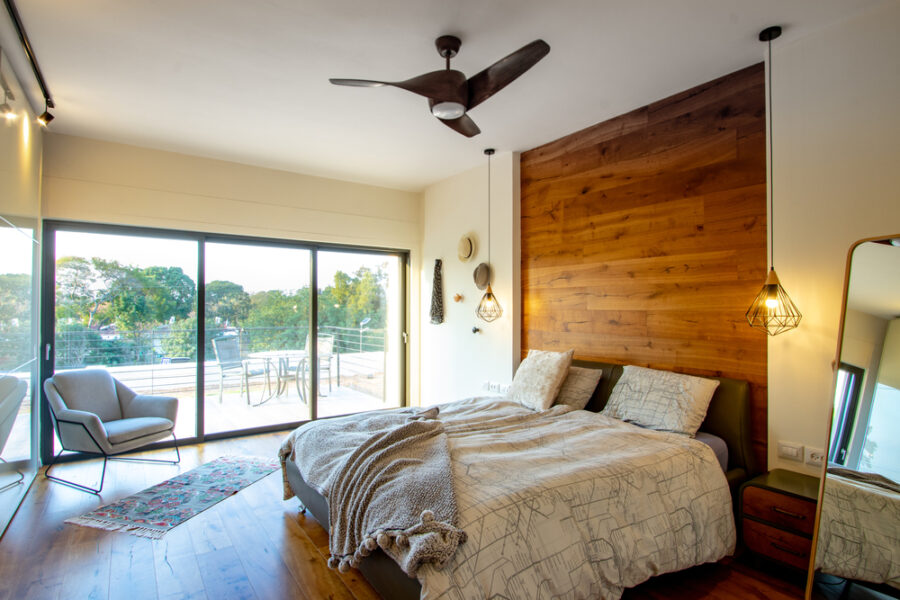 Work out a list of the critical features you're after to narrow down the selections. For example, you might want a fan in the farmhouse or modern style or some other architectural ranges, or perhaps you have a specific color you'd prefer. You may desire a built-in light for the fan, a remote control to operate it, and numerous speed settings to choose between, as well. Another element to consider is if you want an energy-efficient ceiling fan with an ENERGY STAR seal or one made sustainably.
Research and Compare Products
To help you find the best product for your needs at the best price, conduct plenty of research. Check out products online and in stores and compare functionality, style, price, and more. Don't forget to find out how items are constructed so you have an idea of their longevity.
Ask about warranties, too, and if there are any trickier installation factors you need to know about. Plus, look into likely repair and maintenance costs over time, power usage, and how reliable the different brands are in general.
Check Out Reviews and Testimonials
You can also improve your chances of purchasing a quality product by checking out reviews and testimonials from other shoppers. See what other people have to say about the brands and products you've shortlisted by reading website comments, social media posts, forum mentions, blog and magazine articles, etc. Take product feedback with a grain of salt, though, since you'll likely never come across an item that has a 100 percent positive rating.
Ceiling fans are products you don't have to swap out or otherwise install very often, but when you do, it's wise to find the best options for your needs the first time around. Consider all the factors above to assist you in buying well.