If you are interested in a career in Web Design then you will have some IT background and a creative nature about yourself. You may have done a Web Design degree or you may have learnt yourself through your IT skills but whatever route you will be confident at designing websites and web pages for companies.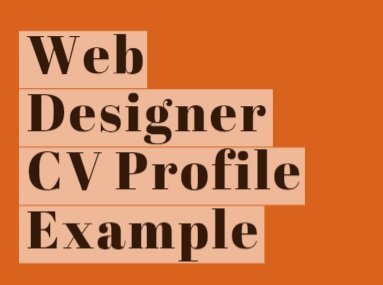 Ideally employers looking to recruit someone would like to see what sites or pages you have worked on before through links or work that you can show them. This shows the skills that you have gained and how you will be able to help them if they were to employ you.
CV Profile Example for Web Designer
I am a hardworking technically minded person with a proven background in IT. I got into Web Design after learning myself and developing my own skills and I thoroughly enjoy being able to use my creative nature and helping clients to create a great website that people talk about.
I have gained good communication skills and feel comfortable discuss this with clients in meetings and planning how to do sites and achieve what they would like.  I also have some experience of working with other departments and seeing the website through from initial conception to delivery and ensuring that it is tested properly and the client ends with a successful web site.
I pride myself on understanding the technical nature of IT and to be able to explain this to my clients in a non technical way so that they are clear on what they know and how much they understand about their own site.  I am very organised and thorough and I pay great attention to detail and like my sites to look good and work as the client wants them to. I think that in this day and age a good website is essential to most businesses.