If you are looking to be a web developer then you will have skills in developing and may have done some web design and have a creative nature.  You may have begun your career as building websites yourself and developed it from there or you could have studied web development at university or college and gained some experience through a company.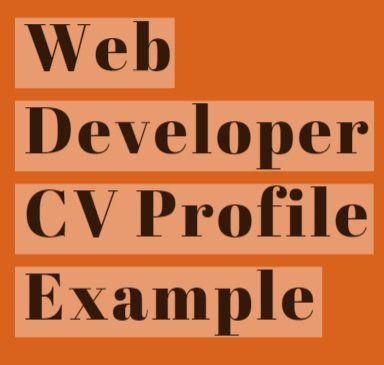 As well as having the technical skills, an employer will be looking to ensure that you are able to communicate well with clients and that you can demonstrate the skills and are able to go through their requirements in a language that they understand.
CV Profile Example for Web Developer
I am an excellent communicator who is pursuing a career as a Web Developer and enjoy dealing with clients and finding out their requirements and ensuring that I deliver on time and within budget. I enjoy working with my team and like to work to tight time constraints and go live days.
I am a very organised person who pays great attention to detail in my work. I have experience of building the framework of a site and adding the features and commands that the client requires and working closely with web designers to ensure that the website looks and feels like the clients requirements.
I find it important to keep up to date with my skills and regularly do new online training courses to improve my skill set and keep me ahead of new skills which is a very important thing within IT. I am very motivated to succeed and I enjoy working on my own as well as working with a team of people which in web development is usually a case of working with many other people to ensure the site gets built and developed in the best way following the client's requirements.