How to answer What applicable attributes / experience do you have? interview question? What would be your answwer if you had this question during your job interview?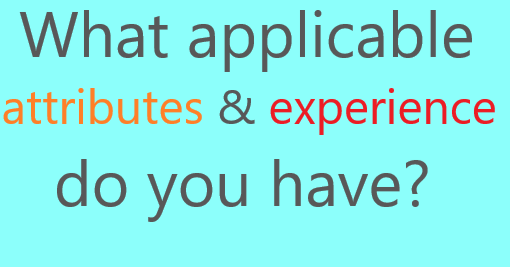 When you're preparing for an interview take time to read the job description thoroughly. It's important to list the key characteristics, skills, attributes and experience that the organization is looking for.
Once you've made a list its time to highlight your attributes and experiences against each.
You must have examples of where you have demonstrated those attributes or experiences. It's worth having at least 3 per attribute that you can use.
When showcasing those examples make sure that what you say is clear, concise and demonstrates your strengths for this role.
Write your answer out beforehand, practice, refine and practice again. That way you'll be ready for this question when it arises.
Possible Answers
You could say that you have X amount of years experience
That your background matches that of the job description
In your last job the responsibilities were very similar to the ones in this role
I like to make sure the job gets finished and I don't like to leave it until it is done.
Focus on your responsibilities and tie it into the role they are interviewing you for, it's important to make it relevant to what they are assessing you can do and also shows the interviewer that you are qualified enough to do the role.
It's important to be honest and accurate, don't exaggerate as you won't be able to back up what you can't do.
Remember that a new employer will check your references and that it will not go down well (you could lose the job) if they find you have not told the truth.
Example Answer
I have always wanted to work as an exhibition designer for a museum that embraces cultural changes and provides a sensory experience for its visitors. My degree helped me to develop key artistic and organisational skills, while the experience that I gained from working at my local museum has been the ideal preparation for a career in this field. I would relish the opportunity to be part of the team that works on the concepts for your upcoming exhibits and collections.
Best Wishes.