What interest you about this job is similar to why do you want this job interview question. How would you answer this question during your interview? Here is how we would:
This is a standard interview question designed to understand why you want the role and work for the organization. Here's a 3 step process to help you craft an answer that stands you out from the competition.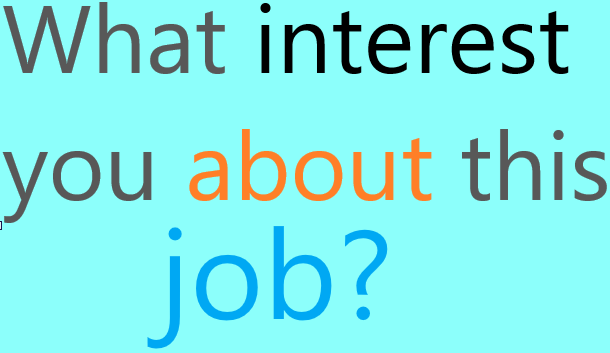 1. Why?
Firstly, think about why you applied for the job. Was it something about the role or the company that appealed to you? Make a list of the reasons why – try to write down between 3 to 5 reasons why.
It's also a good idea to review the job description and the company website. From the job description you can write down the key characteristics they are seeking in the person to fill the role.
From the website you'll get more information about them as a business, their goals, their vision and their culture. Write down any keywords that you come across.
See also: What applicable attributes/experience do you have?
2. Matching
Once you've written your list, think about how you match to those characteristics.
Where do your strengths, skills, knowledge and experience lie? List examples of where you've demonstrate each of the characteristics they are looking for.
3. Your Answer
In your answer it's important to demonstrate that you've done your homework. Explain the reasons why you like them as an organization and why the role appealed.
Then showcase yourself against the characteristics for the role. Provide examples of where you've demonstrated the characteristics they are looking for.
Finally tell them what it would mean to you to get this job. And tell them what you would like to do for them, the value you would bring.