A definite question you will be asked! It is very important to be fully prepared for your big day. You can guess what questions you will be asked during your job interview so why not prepared for it?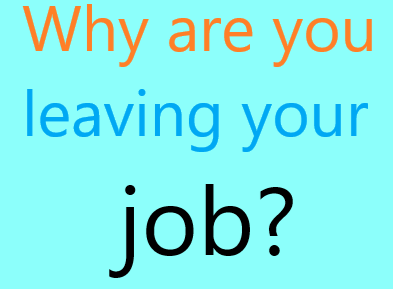 Why are you leaving your current role:
New Challenge
I don't feel that I can work to my full potential so want a new environment.
Always wanted to work for your company and when an opportunity came up you didn't want to miss it.
No room to move up in the company (make sure there is in the role you are being interviewed for first though)
Whatever reason you give make sure you are not negative.
Never speak badly of another company or Manager. It's a small world and you never know who people know and if you are being interviewed in a similar industry it's highly likely that paths will be crossed. Apart from that it also looks very bad speaking badly of a previous employer and would leave an interviewer thinking the same would happen again with their company.
Everyone knows that if you are sitting in another company attending an interview that you wouldn't go if you were not already interested in the company just remember that you are there to create a good impression and hope that they employ you so always remember to be as positive as you can and directly relate questions to what you know.
Why are you leaving your job? Example Answer
"I left my last job as I found out that a new product they were producing was to be tested on animals, I am against animal testing and so could not continue my career with a company that was willing to break my own ethics."
Check out the answer above once again and try to make your own respond now.
Good Luck.