If they ask you "Do you prefer to work independently or on a team?" what would your answer be? You can prefer to work either independently or on a team as long as you can explain it wisely to your interviewer.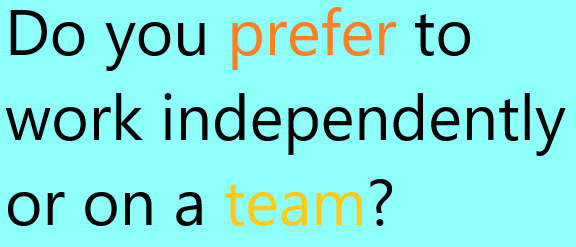 Really a company would like you to be a mixture of both so you have to explain this question well giving examples of when you have done both situations.
An employer would love to know that they can leave an employee to their own devices and that when they return the work has been done. An employee who can work on their own initiative is highly respected.
If the interviewer is asking you this question the chances are that you will be required to work on your own initiative.
Working on your own – are you able to manage your own workload? Are you motivated enough to be able to do it?
This is your chance to answer with something you can practice before hand.
You could say that you enjoy working with others in a team environment but that you are happy to work on your own initiative and if you were not sure on how to do something you would ask for guidance.
Try and relate this to your current or past role by saying that at the moment you work as part of a wider team; however you day to day work on your own initiative and steam.
If you actually prefer to work on your own, make sure you don't say this out loud as you will be labelled as someone who is not a team player and when you work with other people in a company you always have to be a team player as well.