Gamers typically spend great attention building their PCs, but the monitor receives the least attention. This doesn't make sense as the monitor is your portal into the world of your computer – you can build the biggest and best gaming PC in the world, but if you're viewing it through a 12" CRT monitor, it's not going to look very good. Most people think of monitors as the most generic part of the PC build, but in truth, they have a lot of variety. They come in all shapes and sizes and offer varying pixel density, colour density, refresh rates and definition levels. If you're looking to build your first gaming PC or want a better-quality monitor to work from, these are the ones you should look for.
Razer Raptor 27
We're starting strong with the Razer Raptor 27, as this is the monitor that many consider the best overall gaming monitor money can buy. It has a solid 27-inch display with a 2560 x 1440 panel, a max refresh rate of 144Hz, and a response time of 1ms. The high response time makes it perfect for playing fast-paced games like Counterstrike or Call of Duty. It also boasts a fantastic colour palette, as the display covers 162.1% of the sRGB colour gamut – putting out colours you can't even see! It's also a very bright screen, emitting 295 nits of light. For comparison, an average TV emits 100 to 200 nits, so you're getting more than that just from your monitor alone! The monitor even comes with built-in gaming presets, such as FPS Mode, Racing Mode, MMO Mode, Streaming Mode, and Default, so you don't need to spend hours setting up your monitor when changing games. The added grooves in the back of the monitor help with wire management, making your setup look professional, and its sleek, modern design will fit into any elite gaming rig.
Asus ROG Strix XG27UQ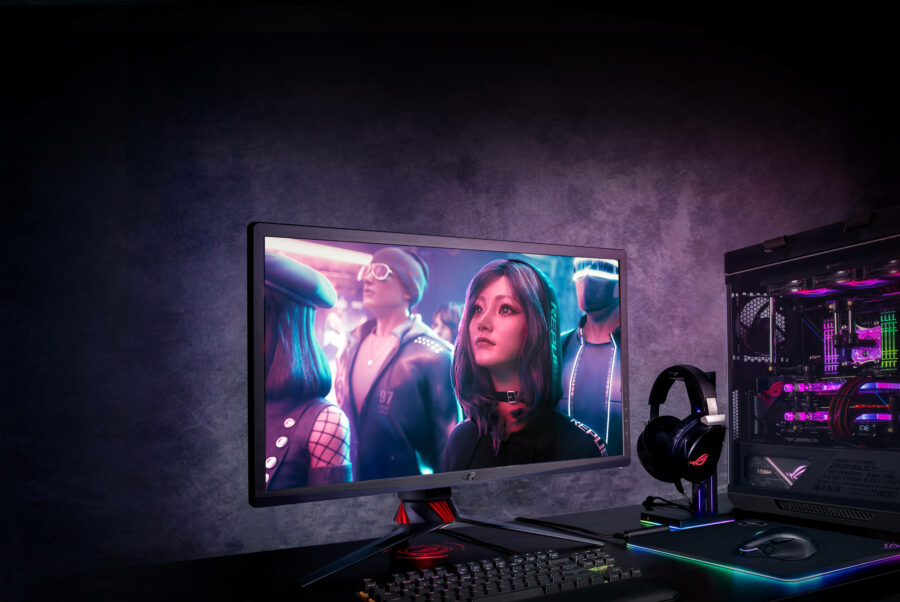 Next on our list is the ASUS ROG, and while the Razer Raptor 27 is considered by many to be the best overall gaming monitor, others consider the ROG to be the best 4K, 144Hz monitor, available. Its most significant selling point is its fantastic display, with a 27-inch screen and 3840 x 2160 panel, giving it an edge over the Raptor 27. It also comes with a maximum 144Hz refresh rate and a response time of 1ms. This monitor is perfect for playing the highest-spec games around. It is a higher definition and has a much higher bit rate than the Raptor 27, with the panel emitting over 355 nits of brightness. Games are constantly increasing their graphics quality, whether first-person shooter games, driving games, or online casino games, so you need a monitor that can keep up with these developments. Online casino games, in particular, have taken giant leaps forward in terms of graphics, whether fantastic themes and animations from their online slots or HD video for their live dealer games. Live dealer games have exploded in popularity over the past few years; it doesn't matter if you're in the UK, India, or the US, you want an immersive casino experience, and that's what these games offer. You can play some of your favourite table games, such as Teen Patti, Casino Hold'em, or Sic Bo, with live dealers casino, and with a monitor of this quality, you'll feel like you're sitting at the casino table!
Alienware AW5520QF
If you've got money to burn and want a monitor that can double as a TV, the Alienware AW55 is the perfect monitor for you. The 55 in its name is not just a random number; that's how big the monitor is! At 55 inches, it's one of the largest monitors money can buy, and it doesn't skimp on quality. It has a 3840 x 2160 OLED panel, with a max refresh rate of 120Hz and a response time of 1ms. There are also plenty of ports on the side, so you can plug all your devices into this bad boy. However, it does clock in at nearly $3000, so you better start saving your pennies if you want to impress your friends with the world's first 55-inch gaming monitor.