Writing a cover letter for the job role in the……
Finance Industry
If you are looking for work in the finance industry then you the main thing that everyone has in common is to want to work with numbers and figures and enjoy mathematical problems and finding solutions. There are however many roles within the finance industry such as:
Accounts Assistant
Account Clerk/ Accounts Payable
Sales and Purchase Ledger
Finance Manager or Director
Employers will be looking for candidates ideally with some finance background for some of the more junior roles but if not then a strong administration and/or customer service background will be acceptable as in all roles you will need to be very organised and pay great attention to detail.  You will need to be very accurate in your work and be able to concentrate with numbers for long periods of time as well as be able to communicate with others and explain financial information in a non technical manner so they can understand.
Most people new to the finance industry will begin as an Accounts Assistant providing support to an accounts department and be more of a generalist role helping people with queries, giving out pay slips, organising time sheets and invoices to be sent and paid etc.
It will largely depend on the company as to the route for an application. Some employers like online applications through their websites or just want you to email or post your CV with a covering letter or more public companies have strict procedures to follow which will consist of an application form and detailed notes when answering it.
It is always important to ensure that you tell your future employer as much information as you can within your application form, however insignificant you think it might be, if it connected to the job role or the company industry then ensure you put this in detail when completing your application form so they can make a decision based on all your information.
Example Cover Letter for a Finance Job
Dear Personnel Manager,
Please find enclosed my application form and CV for the post of Graduate Trainee as advertised in the (where you found vacancy) database.
In July 2013, I completed my final year at the (University) where I studied Accountancy and Mathematics. I have always had an interest in finance, and my degree helped to further this interest. The modules I took involved many aspects of the financial industry.
As part of my final year of my degree course, I completed a dissertation which involved analysing data on over 150 car dealers. In order for me to interpret the results based on this data, I taught myself how to use the SPSS statistical package. This has given me the confidence that I can rapidly learn new skills when required to do so. Overall, I have achieved 72% for this piece of work. Furthermore, the write-up required me to be competent in my use of computers, particularly in the use of MS Windows packages, including Excel and Word. I had to give a presentation of my results to students and staff for which I had to develop a PowerPoint presentation and learned to speak with confidence in front of an audience.
In addition, I also have good office and IT skills from my work experience with Lloyds TSB, and have developed strong customer service skills, the understanding of the importance of teamwork and communication skills.
I am able to evidence my qualifications and a full reference from my University. Please note that I am available for interview at any time, and look forward to hearing from you shortly
Applicant Name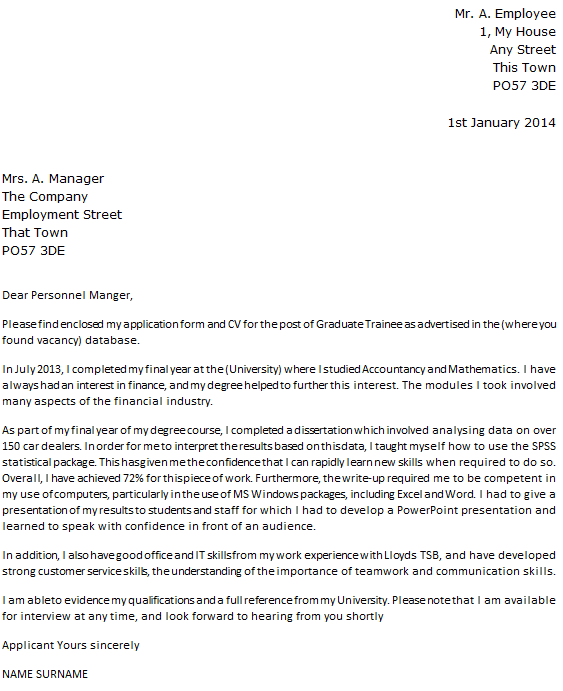 Good luck.