If you are looking for a role as a Pharmacy Technician then you will have a keen interest in the Sciences and Medicine and provide support to a fully trained pharmacist in getting medications together for prescriptions by weighing out the correct amounts and getting the medicines ready for the pharmacist to check.  You will need to be able to pay great attention to detail and work with complete accuracy as mistakes would be very costly.
If you have found a role in which you want to apply for, please see the below covering letter that you can use as an example:
Pharmacy Technician Cover Letter Example
Dear Sir/Madam,
Application for the role of Pharmacy Technician
I would like to apply for the role of Pharmacy Technician which you have you advertised in (where) and (when).
I have always wanted to work in a Pharmacy and have done some work experience as a Pharmacy Assistant serving customers and helping with stock control etc. I am now looking to continue my career and learn more about the medicines within the pharmacy and how they are stored, weighed etc and how much people should be allowed and when. I am a very organised person who pays great attention to detail and feel that I would be successful within this role.
I am keen to learn as much as I possibly can and I am happy to go on any training which will be required. I am an excellent communicator and have a firm but friendly nature and feel like I am helpful to customers seeking products and medicines.
I have enclosed my CV for you to consider. If you have any questions please do not hesitate to contact me and I will be happy to answer any questions you may have.
Thank you for taking the time to read my letter and CV.
I look forward to hearing from you.
Yours sincerely
NAME SURNAME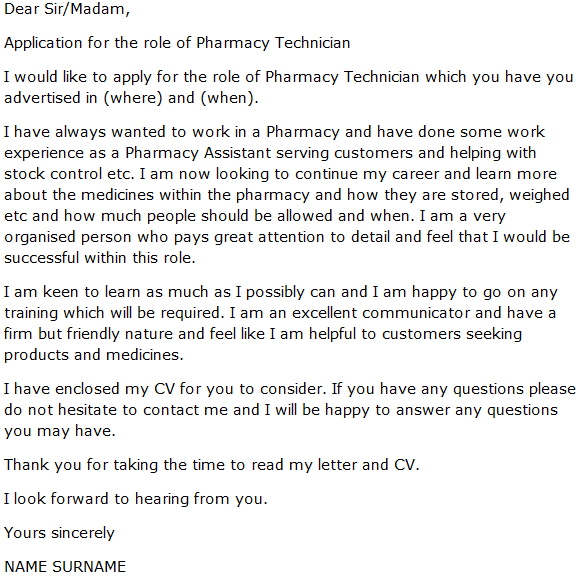 Good luck.