If you are interested in working in a retail industry or have some experience already of working in the retail industry and are looking to update or write your personal profile before applying for roles then it's worth looking carefully at the experience you have already gained and where you feel you are in the retail world and compare this to the job or jobs that you want to apply for.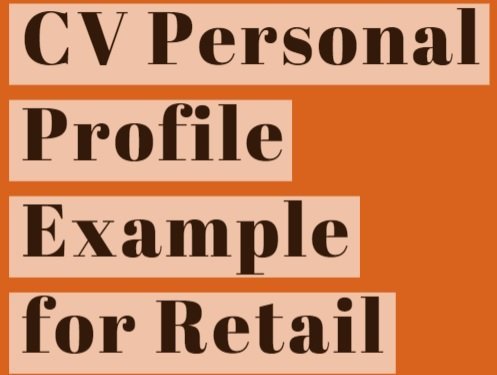 If you are looking at how best to write your personal profile, please see the below example that you can use as guide:
Retail Personal Profile Example for CV
I have worked in the retail industry for X years and I enjoy all aspects of working in retail. I began my career working as a sales assistant putting stock onto displays and selling and helping customers with the products that they want or want to know about. I then moved on through managing a small team which I enjoyed as I feel that I have built my communication skills up enough to manage the daily goings on of a team and their roles.
Related: Sales Assistant CV Personal Profile Example
I am now interested in working in a Head Office environment getting to know the detail of how the products are sourced, where from, looking at the samples, looking at the quantities of what products should go into what stores and dealing with point of sale items, promotions and sales. I have done some work experience working alongside the merchandising team and found this to be a real insight from working in a store for so many years.
I am a confident person; I like new challenges and like to be able to learn new skills. I want to be successful in my career and am happy to put a great deal of effort into gaining this and working my way up through a company and the retail industry.