The COVID-19 pandemic has drastically changed what business looks like for many workers around the globe. Instead of commuting to an office, you're probably working from home. And if you're not used to a WFH setup, it might be hard to stay productive, let alone focused!
To remedy this situation, let's take a look at your home office. Does it mirror the one at work? What's the ambiance? The color palette? When you sit down at your home workstation, do you feel at ease? If your home office is lacking (and you don't have a bunch of Franklin's gasping for air in your wallet), then we're about to show how to decorate your home office on a budget. Why?
Because the right decorations don't just change a home office's atmosphere. They can change you.
Here are some easy ways to decorate your home office without spending an arm and a leg in the process.
Invest in Energy-Efficient Office Equipment
Although this typically requires an upfront investment, saving money on your monthly energy bill will pay off over time. Using well-engineered, energy-efficient office equipment mitigates frequent breakdowns and reduces your power output.
Additionally, consider investing in fluorescent light bulbs and eco-friendly air conditioners. Not only does the hardware reduce your utility bills, they can modernize your office space. For a whimsical and creative atmosphere, LED fairy lights will transform your office into The Faery Realm.
Incorporate Plants
Luscious greenery is inviting. It's warm. It's soft and lovely and wonderful. There's a reason why just stepping into a garden feels like taking a deep breath. Looking to instill a sense of serenity and turn your workflow into nirvana? Then it's time to bring some plant friends home.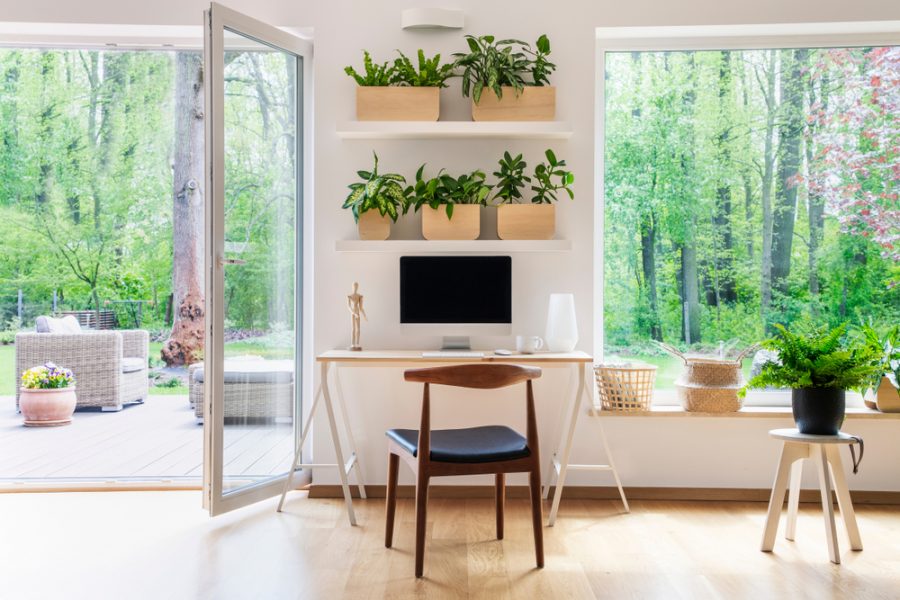 A few plant varieties to consider include:
Succulents – Succulents are easy to care for and require little horticultural expertise. Additionally, they come in different varieties so you can pick the colors, shapes, and textures that reflect your personality and the ambiance you want.
Herbs – Herbs are a fantastic choice for those who enjoy cooking in their free time. Adding a pot of basil or mint to your windowsill will spread calming aromas. Look for flowering herb varieties like lemon balm and lavender.
Flowers – Sometimes a delicate bouquet is all it takes to add some cheer and color to your workspace.
Update Your Artwork
If your home office has only recently become your actual office, you likely haven't spent much time selecting artwork.
Finding art that motivates you, puts you at ease, or represents a certain memory (or emotion) is a budget-friendly personal touch you can add to your workspace.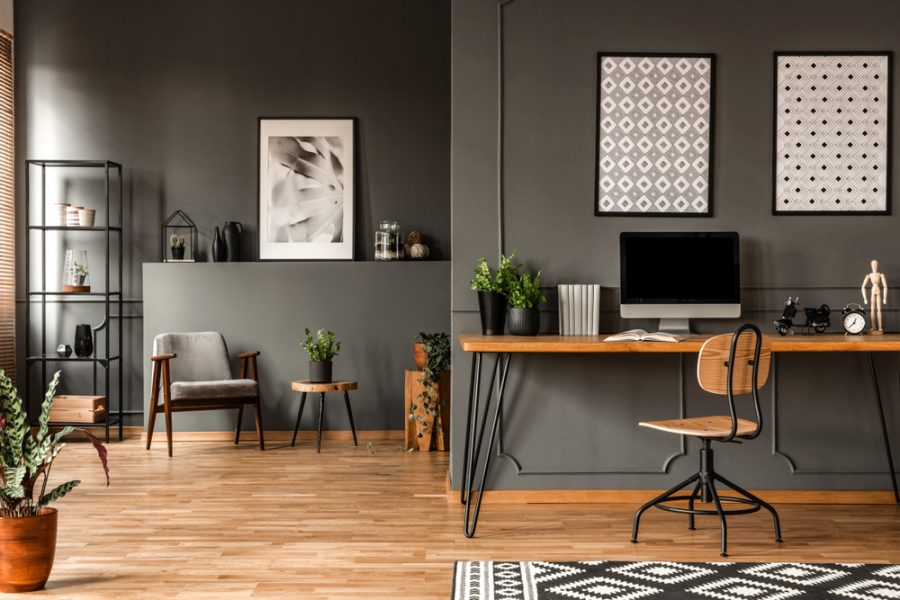 For a sophisticated twist on family photos, hang canvas pictures instead of framed pictures. From the lens of interior design, this could improve your home office's aesthetic. Not only are canvas prints a bit less abrasive when hung up, they're also modern. If you dabble in photography, use some of your own images to personalize your space.
Decorate with Comfort in Mind
As anyone working from home will confirm, a comfortable desk chair is crucial to sustaining a productive workflow. You might have a sore neck from hunching at your kitchen table or an achy backside from that unforgiving chair. This is not a long-term solution!
So, how do you fix your uncomfortable setup? An ergonomic chair might not be viable (because, well, they're quite expensive). In which case, you're going to need to get crafty. Consider using a throw blanket or sheepskin that accents the room, yet can tuck behind your lower back to pack in some support (or under your buttock!).
Place your "secret decoration" draped over your office chair, then make it a utility when it's time to power through a 10-hour workday.
Embrace Do It Yourself Projects
This is an age old hack for any home decorating scheme. It starts with a few questions: What can you make yourself? What can you repurpose?
Don't look at online catalogues, use your third eye to look at the room in front of you. Once you've identified some fixtures or items that could come to life with a little TLC (and your genius creativity), consider:
Repainting – With a new coat of paint, bookshelves or side tables can come alive again. Look around to see if you have any furniture that's begging to be refurbished. Have you ever heard the squeaky wheel gets the oil? Do you know how your furniture squeaks? By coming undone at the hinges and losing its color.
Adding Some Window Trimmings – If you have any old lace tablecloths, convert them into new curtains for your office. Jaunty new curtains can bring the homeliness back into your office, creating an inviting atmosphere (they're cheap, too).
Displaying Your Books – Arrange your favorite books by color or turn them so the spines face inward for a peaceful, monochromatic vibe.
Separate Work from Play
Redecorating your home office is a fantastic way to set boundaries. Reduce the blurry line between your home and your workspace to encourage uninterrupted productivity. If the threshold between your personal and work life is a razor's edge, it'll be difficult to settle into a healthy workflow.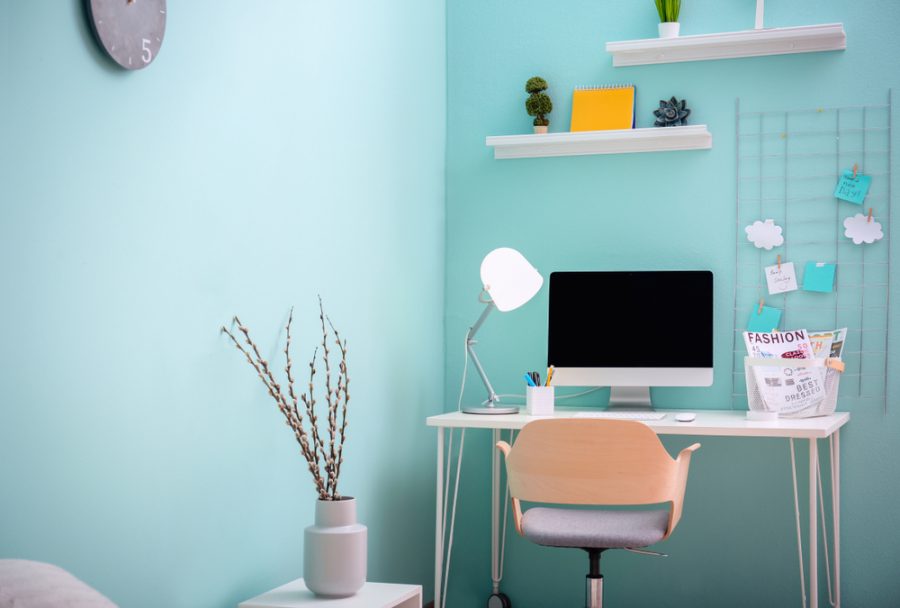 Additionally, this might be the norm for a while. Use these affordable decorations to create a calming and reflective ambiance, one you look forward to sitting in when it's time to log into Gmail. Your WFH setup is your own kingdom. Let it reflect your personality. Hang up that Bee Gees poster your boss would've scoffed at. Decorate the walls in cheetah print.
Let the space be totally, completely, infinitely you.