Cover letter example for a Kitchen Porter job. You can amend this letter as suitable and apply for latest job vacancies.

– Catering Porter cover letter example
– Catering Manager cover letter example
– Catering Supervisor cover letter example
– Catering Assistant cover letter example
– Catering service personnel cover letter example
– Catering engineer CV Example
– Catering supervisor CV Example
– Catering assistant CV Example
Jessica Carter
Hiring Manager
Learnist Ltd
30 Viva Street
London
6BH 11CH
20 May 2014
Dear Sirs
I have just read your advertisement for a kitchen porter in the Warrington Times. Although I haven't much experience in this work, I have worked in the kitchen of a fast food outlet in Liverpool during the school holidays.
I really want to work for a high-class hotel group and feel that starting as kitchen porter will give me the opportunity to learn the basics. I enjoy making sure that everything is spotlessly clean and stored in the correct place.
I enclose a copy of my CV which gives details of my GCSE results which include a "B" in both English Language and Maths. I understand that there may be the possibility of attending college one day each week which I would really appreciate.
I am happy to work different shifts as required. I am always punctual and like to think that I work efficiently whether on my own or as a member of a team.
Thank you for reading my application. I would love to attend an interview at a time and date of your convenience. I hope to hear from you soon.
Your Name
Address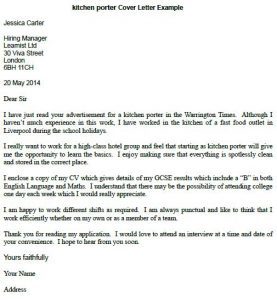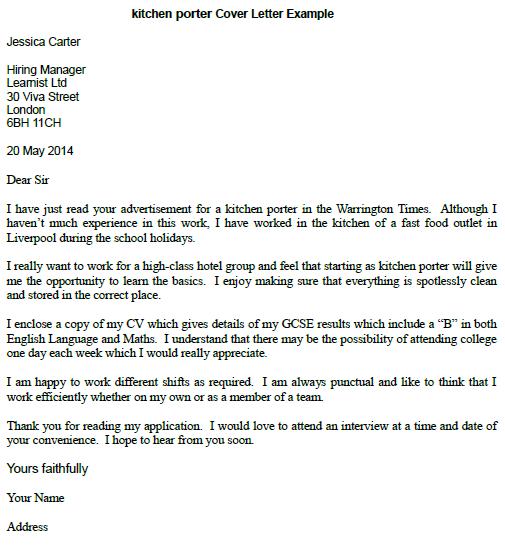 Download it in PDF format kitchen porter cover letter example