If you are looking to be a School Nurse then you will have qualified as a nurse and want to work in a school setting with children as opposed to a hospital setting. You will need to have previous experience of working with children from CRB checks to more general experience and be up to date with possible child health issues in schools.
You will need to be able to communicate with all levels of adults and children including parents and relatives if need be. You will need to be able to listen, have a calm nature and be reassuring to a scared child. Depending on the school setting you could be administering injections, checking for general illness, dealing with scrapes and falls, assessing a child's hearing and eye site etc.
If you have found a role in which you want to apply for, you would normally complete an application form to work in a school but below is a covering letter example which you could also use with your application.
School Nurse Cover Letter Example
Dear Sir/Madam,
Application for the role of School Nurse
I would like to apply for the role of School Nurse which I have seen advertised in (where and when).
I competed my training as a nurse in (when and from where, etc, please provide any details here). I am now looking for a new role after working in a hospital setting for (how long) and am very interested in the role that you have advertised.
I have had some experience of working with children at my time at (where, doing what) and I feel that I always relate to children well and can put them at ease if they are worried or upset.
I enjoy nursing and feel that I am a good nurse. I have excellent communication skills and listening skills and feel that I am a positive person. I am organised and thorough and always ensure that as well as my nursing skills I keep all records and logs up to date at all times.
I have enclosed my CV for your consideration, should you have any interest in my skills; please do not hesitate to contact me.
Thank you for taking the time to read my letter and CV and I look forward to hearing from you.
Yours sincerely
NAME SURNAME
Cover Letter for School Nurse
Dear Sirs
I should like to apply for the position of School Nurse, as advertised recently. I am a fully qualified State Registered Nurse, originally training in London and then moving to be based at the Regional Hospital Trust where I am currently located, together with my family. I specialise in care of children and young people and have also spent time working on adult mixed wards.
I have been working on a 24 hour shift Rota at the hospital and, in order to accommodate the needs of my young family, I would like to work where I can fit in with my children's school life and the role in a local school, together with the hours as advertised, would enable me to do this.
Obviously, I have support at home and can be flexible with the hours to suit your own changes to the staff rotas where required.
I am really looking for a permanent position where I can settle in and become part of the school pupils' daily life and routine, as I feel that this sort of stability offers pupils a great deal of support and is helpful to their well-being.
I am available for interview at your convenience and references are available on request.
I attach my CV and look forward to hearing from you as appropriate.
Yours faithfully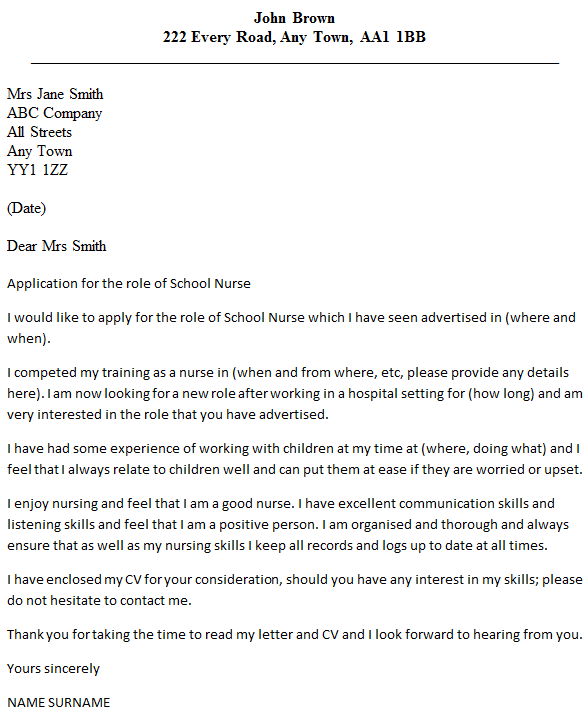 Good luck.