There are some huge UK based companies that hire hundreds, if not thousands, of staff every year. In this article I will explain who the power 10 is, what they do, and what jobs may be available to those seeking work.
The benefits of working for such large companies are countable, such as job security, pensions and promotion opportunities. With such large companies it is often the case that there are always vacancies available and they may be closer to home than you think. Without further ado, here is the top ten.
The Top Ten UK Employers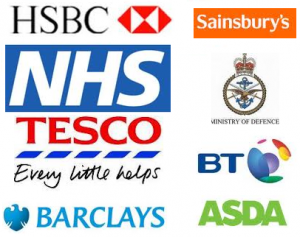 1. NHS. The National Health Service is the agency that deals with health and social care in the United Kingdom. The NHS are such a huge workforce, that at last count the number of staff it employed in the UK stood at over 1,400,000. Because the NHS deals with mostly medical issues, a lot of the jobs to be had with the NHS are for Doctors, Nurses, Therapists, Surgeons and Auxiliary staff for Hospitals and Doctors Surgeries. They also employ a huge number of Dentists. Of course, there is always the need for clerical staff such as receptionists, and domestic staff such as cleaners and porters. There is also a logistics side of the NHS which would employ drivers and loaders, as well as office staff that are employed in their numerous call centres, emergency dispatch centres and ambulance drivers and paramedics. The NHS is such a huge employer that there are opportunities for many different people. To enquire about careers in the NHS please visit NHS Careers.
2. Ministry of Defence. The Ministry of Defence (MOD) is the agency in the UK that deals with matters relating to the Armed Forces, which are the Army, Navy and Air Force. At last count they employed some 500,000 persons in the UK. As well as the many frontline positions they offer such as Soldier, Sailor and Pilot, they also deal with a large number of Civilian roles such as administration. In each sector of each force they will require people to fill many roles from those expected to serve in conflicts, to those that work on bases, providing training, or support services. So there are jobs for people of all skills with the Ministry of Defence. People interested in carers with the MOD should enquire at their local service office, or visit Army Careers.
3. Tesco. The UK's biggest supermarket currently employs over 550,000 people within the UK. When you think of Tesco you think of supermarkets, and the typical jobs that could be offered in that setting would be checkout assistants, stock assistants and security staff, however, in the UK Tesco also has many financial sectors under its belt, such as Tesco loans, Insurance Services and Credit cards. Therefore as well as the basic Supermarket jobs that are available, Tesco also has a great need for admin staff to handle queries in its call centres, as well as logistics for transporting goods to stores. Anyone interested in a career with Tesco should visit tesco-careers.com/.
4. HSBC. One of the biggest names in Banking is also one of the biggest names in the UK employment market. HSBC currently employs 253,000 people worldwide, and has a huge operation in the UK. It has positions for Banking staff, as well as security staff, and staff to handle customer service queries both in branch and in the call centres. Anyone wishing to work with HSBC should visit HSBC Careers
5. Sainsbury's. Another huge UK supermarket employing over 155,000 people in the UK is J Sainsbury's. With their constant expansion into the convenience market, they have become a large employer. The range of jobs varies from supermarket assistants, to warehousing assistants and customer services. Sainsbury's also offer a range of financial services and therefore hire a large amount of support staff to cover those ventures. If a job at Sainsbury's could be for you, you should visit sainsburys.jobs/
6. Asda. On par with Sainsbury's, Asda currently employs somewhere in the region of 150,000 people in the United Kingdom. They may employ less staff as Asda don't have the convenience stores that Sainsbury's and Tesco have, however they still offer a huge variety of positions within their Supermarket operations. Asda also often have in house bakery and butcher counters. Anyone looking to work for Asda should visit asda.jobs
7. Barclays. One of the major Banking institutions in the UK, Barclays, currently employs around 149,000 people worldwide, many in the UK in its banking branches and at their call centres. If you are interested in joining Barclays at one of its operations you should visit Barclays Careers
8. RBS Group. Another banking institution, RBS, employs around 136,000 people worldwide, again with most of these being UK based. As with the other banking operations it offers a range of financial products and therefore employs a range of mathematically minded people, as well as customer service staff. Those wishing to have a career with RBS should visit jobs.rbs.com/uk
9. BT. One of the largest Telecommunications groups in the world, BT employs some 100,000 people within its UK operations. The jobs you might encounter at BT range from clerical support, customer services support and technical roles such as installers and repairers. It has a vast network of hardware across the UK such as pylons and exchanges that require technical maintainence, as well as many call centres to handle customer queries and sales. BT has a huge range of vacancies and anyone who might wish to work for BT should visit BT Careers
10. McDonalds. Easily one of the world's most recognisable names, McDonalds employs some 98,000 people in the UK alone. Well known for its commitment to staff development and welfare, a job with McDonalds can be more than a typical restaurant job. There are a range of vacancies from serving staff to domestic staff, as well as a hefty office based team. Those wishing to take on a career with McDonalds should begin their search at McDonalds Careers.