Use this CV example for free for your job applications after amending it as suitable.
CV Example for Office Junior
PERSONAL INFORMATION
Name
10 Cameron Place
Any Town, Post-code
Tel: 01234 567 890
Mob: 07700 111 111
e-mail: example at hotmail.com
PERSONAL PROFILE
I would describe myself as a well presented, hard working individual who thrives at the chance of a challenge at work. I always like to work quickly but neatly so I can get the task I have been given done in a professional and efficient manner. Through previous work experience, I have proven to be able to multi-task and enjoy the variety of work that is associated in a busy office and have been involved with reception duties; filing; photocopying; petty cash and general admin. I like to think I am someone who works well alongside others and easy to get along with as I am a sociable person. Working with colleagues and customers in stressful environments has helped me build my confidence as a person and hopefully will carry on so.
SKILLS and QUALITIES
Able to work quickly and accurately under pressure
Good communication skills
Good timekeeper
Flexible approach
Good customer care
Willing to learn and take on new tasks
Excellent team player
Ability to multi-task
EDUCATION
2005 – 2011 SCHOOL NAME
Higher
Physical Education B
Intermediate
Int. 2 English C
Standard Grades:
Physical Education Credit 1 Chemistry Gen 3
Craft & Design Credit 2 Maths Gen 4
History Credit 2 German Foundation 5
English Gen 3 Hospitality A
EMPLOYMENT/WORK EXPERIENCE
Jun 2011 – Present: Company Name, Town
Office Assistant
My duties involve customer service, assisting in the office, attending to customer enquiries both face to face and over the telephone and ensuring they receive excellent customer service. When asked about something I am not sure of, I am not afraid to ask for help from colleagues as I believe finding out the most I can for the customer is best, telling them if I don't know, I can find out for them. I take pride in my work and this job has proved I can multi-task working in the office, dealing with reception duties and working with petty cash and small banking procedures. At present, being trained in the ordering and invoicing software which I enjoy very much.
Oct 2010 – Jun 2011: Administration Work

A 20 hour per week contract to do administration in a local office. This involved answering phone calls, dealing with enquiries from customers and helping them as much as possible. Also took orders from customers, proving I am capable of working on my own, using my own initiative. I also have experience of using MS Word, formatting documents as required. I was also responsible for the checking of items delivered to the office, checking the order, ensuring all the goods were received in good order and filing the receipts.

Previous Experience: I have also worked as a waitress at The Glenmorangie Hotel, Town, Butterfingers Café, Town and more recently The Hotel Name, Town while I was at school. This meant working most weekends and sometimes evenings while at school. This helped develop my confidence for working with the public, gaining knowledge of customer service as well as working in a good team.
OTHER INFORMATION
Full Clean Driving Licence
Own Transport
IT – Microsoft Word; Excel; Outlook and Power Point
REFERENCES
Available on Request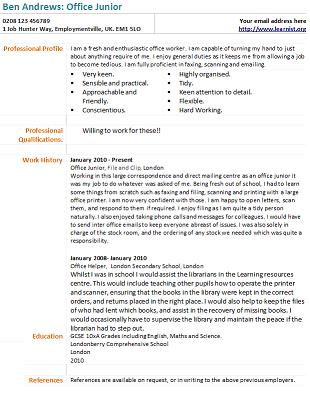 Download Office Junior CV Example