If you are going to apply for a mail sorter job then you will need a well written CV to apply for the vacancies. Christmas jobs for 2018 has already been posted to job sites online so why not make your CV ready for Mail sorter job opportunities?
You can check out this free example or download it to your computer for a further analysing however don't forget to amend this example before using it for your job applications.
Mail Sorter jobs are popular in the UK and there are many companies who offers positions in this field.
Post Office, carrier firms and some others have vacancies.
Mail Sorter CV Example
[Type the date]
[Type your name]
[Type your phone number]
[Type your e-mail]
[Type your address]
[Type your website]
Personal Summary
Well organized and efficient Mail Sorter able to work effectively under pressure. Demonstrates excellent communication skills both within the team and with higher level team managers. Experienced with on-the-job training for new and inexperienced staff. Take advantage of my interpersonal skills, my dynamic mindset and my strong understanding of Industrial
Engineering & Supply Chain to become a professional Manager in future and bring significant value to
Company and Customers.
• Reliable and dependable with high
standards
• Excellent interpersonal skills –
experience of dealing with people
• Welcomes new responsibilities
• Good time management and attention to details
• Good team player or equally happy
working alone
Work Experience
Mail Sorter – Apr-09 – Present
Post Office | Clacton
Providing efficient mail sorting as part of a team, responsible for ensuring the efficient and effective organisation of the mail.
Duties:
· Sorting and organizing mail
· Training up new and inexperienced staff on-the-job
· Meeting deadlines and assisting senior managers with routine audits
Key Skills
· Consistently accurate in working, even when under pressure
· Able to communicate effectively with individuals at all levels
· Work proficiently both as part of a team and individually
Education
High School
2008 – 2010 A-Levels:
Physical Education (A) Geography (B) Maths (C)
Qualifications
2008 Advanced Driving Test
1990 Driving Test
1999 First Aid Course
Health & Safety Course at work
Learn Direct Qualifications: NVQ Level 1 English and
Maths
References
Available upon request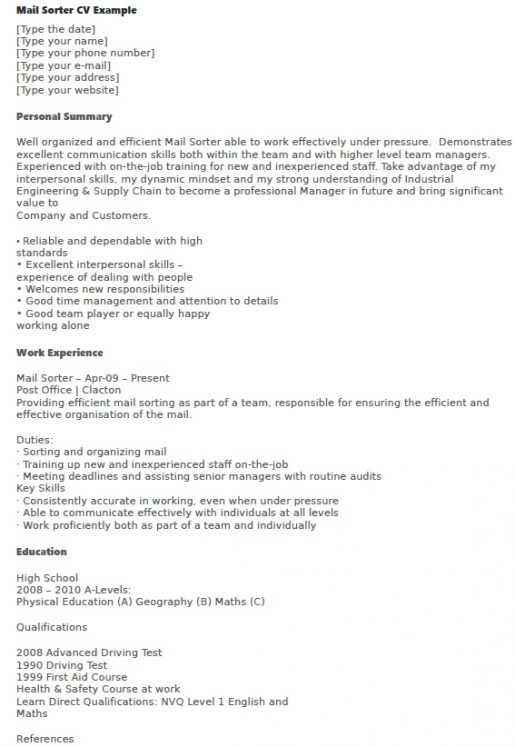 All the best with writing your CV and job search.